8
Wednesday, January 05, 2011 by Paul Grech
A club that exists to win trophies. Remember when that used to said about Liverpool? And remember when people actually believed it because that is what happened every year?

The way things have unfolded this season, saying such a thing about the club at this present time isn't even funny. Slowly the realisation that mid-table mediocrity is the best that can be expected has filtered through. True, there's still the FA Cup and Europa League at stake but is there really the belief that either one can be won?

Yet, strangely enough, the Liverpool fans won't accept it. And they won't accept a manager who seems to believe that it isn't so bad.

That much has been evident for quite some time but only recently have such feelings been made public. Funnily, though, the reaction by those reporting this – or at least some of them who hate admitting they were wrong in backing Hodgson so strongly last summer and ever since - has been somewhat bitter. It is as if it is the fans who are dishonouring the club's history rather than the results and quality of football that has been played out on the pitch.

This is a group of players that Hodgson inherited is the mantra among those who supported his appointment; a group of players that finished seventh last year. Not to mention that a manager needs time to impose his beliefs and mentality. Of course both are fair points, but much like a magician who draws attention to one hand so as to hide what he's doing with the other, they're also arguments aimed at perpetrating the illusion that it isn't Hodgson's fault.


Because, if that wasn't the case they would be able to explain why two out of the three players that Hodgson bought – Konchesky and Poulsen – aren't even close to being good enough for Liverpool.
Nor do Hodgson's defenders explain his tactics; the long balls raining towards Fernando Torres, why Liverpool defend so deep, why the defence can't seem to grasp what they should be doing, why there doesn't seem to be any conviction about the importance of imposing yourself rather than letting others dictate the game.
Those are questions that go unanswered or else, inevitably, blamed on the players who aren't good enough. Which, come to think of it, doesn't stack up as most of these players formed part of the side that got so close to winning the league two years ago. And yes, last season Liverpool finished seventh and played horrendously at times but they were always towards the top end of the league table, not looking worriedly backwards at the relegation zone as has become the norm this year.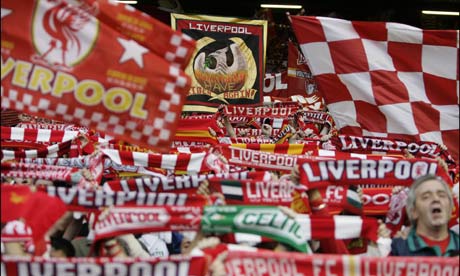 The truth is that Hodgson has retained the same mindset that he had at Fulham. Clearly he is of the firm belief that the tactics which worked at a club that traditionally considered a mid-table finish as an achievement are good enough for one that aims to be challenging to win things. After all, he said so himself. It is seen in the players he feels are good enough for Liverpool, not just Konchesky and Poulsen but also Carlton Cole, whom he has publicly admitted to be interested in. He still believes that getting turned over at Stoke or Blackburn isn't that bad. But that isn't good enough for Liverpool
For Fenway Sports Group, the time has come to make a very important decision. It might be one that they hoped they wouldn't have to take – more because it didn't fit with their immediate strategy rather than any particular belief in Hodgson - but one that they have to take nevertheless. Accepting the situation as it stands today is tantamount to lowering the high standards that used to be set for Liverpool FC, which also equates to an insult to the club's history and those who worked so hard to make it so great.
If that's the case, then it's probably unfortunate for them that the fans won't be accepting that any time soon.
---
Linkbar