10
Thursday, April 21, 2011 by Paul Grech
Some of the qualities that mark a great player are rather obvious and are largely centred on how he uses the ball when it is in his feet. Other qualities, however, are not that apparent. Strength of character, for instance, falls into this category. With the first, one can achieve some success but that won't be lasting if there isn't also the latter.

It might be too much – or perhaps too early – to call Lucas Leiva a great player but, even so, he is perhaps the ideal player to put forward as an example that proves such a claim. No player can be voted as being the best in Brazilian football if there isn't some obvious talent but for two years Lucas struggled to show that at Liverpool.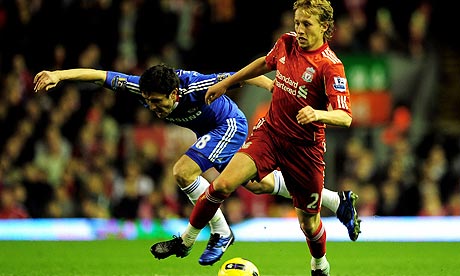 It was hardly surprising. This was a young player who had not only moved from a completely different culture but was playing a style of football that was alien to him. The speed with which the ball got moved around along with the little time afforded to anyone having possession of the ball was a shock to his system. What he went through was understandable.

Yet not everyone understood. Shamefully, there were many who constantly picked on Lucas. Good games would be pushed aside whilst bad ones – or even bad spells in otherwise decent performances – would be used as a stick with which to beat him.

Others would have given up and pushed so that one of the many offers that came in for him from across Europe would be accepted. Most would have hidden behind the criticism to claim that any lack of progress was down to the unnecessary pressure being put on him. But, rather than take the easy option Lucas stuck it out, worked hard and has emerged as a fine midfielder; perhaps even more than that.

That much is recognised by the fact that the criticism has stopped. Although, in truth, that's not the case: it has merely been shifted on to others.


Last summer, Liverpool signed Danny Wilson. A central defender who had impressed hugely at Rangers, he had won the league playing fairly regularly despite being just eighteen years old. There was an acceptance that he would need some time to develop but little doubt about his potential.
Yet, at least there seemed to be that acceptance because patience with him seems to be running low. Little does it matter that when he has been called to play for Liverpool this has been out of position at left back. Much less that, defensively, he has shown that he can play at this level. What matters is his apparent inability to offer anything going forward.
That is where the attention has focused and that is what has led to criticism. So far they haven't been too audible but the groans that used to welcome Lucas every time he got on to the pitch are now being heard when Wilson gets near the ball.
Not that he's alone to get this treatment. Up till a couple of months back, there were plenty willing to write off Jay Spearing. This despite him excelling in the reserves and doing reasonably well when given a chance in the first team. No one complained as vociferously as they did with Lucas but that was because he didn't play anywhere as near much as the Brazilian and also because he was a local player which obviously granted him added leeway.
Now Spearing is proving that what he needed was games to show what he could do. He, like Lucas, had the mental fortitude to keep on working hard to improve despite the criticism that was coming his way. The hope is that Wilson is made of similar stuff.
Yet it shouldn't be like that. This apparent need to classify a player as good or bad within a handful of games is not only illogical; it is harmful. Some players just aren't good enough to play for certain clubs but that's not what's in play here but rather a perverse desire to find villains to blame. And once they're identified, there's hardly anything that they can do to get out of it. From then on they become a very comfortable commodity for those who can then condense every defeat or bad performance to that player's perceived failing.
Such a failure to recognise that players need time to settle and, much worse, that they are working hard to improve is a myopic attitude that makes a mockery of the phrase supporters, people who's sole purpose should be that of giving encouragement to their own players and not sucking it out.
Category Character
---
Linkbar