0
Monday, October 10, 2011 by Paul Grech
Despite achieving an unprecedented treble in his first season in charge, Joe Fagan remains something of a marginalised figure in Liverpool's history. For many his success was down to the team he inherited from Bob Paisley whereas his work in the backroom staff is often overlooked.
A much more truthful picture of Fagan's role both as a coach and as a manager is presented by the recent biography titled
Joe Fagan: A Reluctant Champion
. We spoke to Mark Platt, one of the book's co-authors,about the story behind this book and the experience of writing it.
How was the idea to write this book born? And how did you get involved?
The idea stems from a show I produced for LFC TV (my full-time job) about Joe back in 2007. It was called 'No Ordinary Joe' and during its production I got to know two of Joe's sons Stephen and Michael. We got talking about the fact he was such an unsung figure and that there'd never been a book written about him. With the family's blessing I then pressed ahead with putting this right. Not long afterwards I met Joe's grandson Andrew, a journalist based in London. He too was planning on writing a similar book so we decided to work together.
What was your role in the writing of this book?
I probably did more of the research but
the workload was split pretty evenly and together
we carried out interviews with many of Joe's ex-colleagues and former Liverpool players, and then pieced everything together.
What was the process like? How long did it take to write and was it a difficult book to write?
I'd be lying if I said it was easy. With me based in Liverpool and Andrew in London it was difficult at times but we got together as often as we could and spoke regularly over the phone and via email. Writing a biography of a person who is no longer with us is always going to be a complex project, especially someone who before he became manager kept himself very much out of the public eye. Piecing together Joe's early life was certainly a challenge because not much was known about him. His time at Liverpool was little easier as I like to think I have sufficient knowledge of this and there was no shortage of people who worked with him and for him willing to cooperate.
Why did you feel that it was important that there was a book about Joe Fagan?
Like I said earlier he was such an unsung figure but the role he played in Liverpool's success of the sixties, seventies and eighties can never be underestimated. Everyone knows about Bill Shankly and Bob Paisley, there have been countless books written about these – and rightly so – but Joe's role was just as important.
Did you yourself ever get to meet Joe?
I did briefly. It was at Melwood one day back in the mid-1990s. I was working for a magazine called XTRA Time and I was at the training ground to interview one of the players when I spotted Joe. At the time I was also working on a feature about the treble-winning season, it must have been 1994 and the tenth anniversary, so I approached Joe and asked if I could interview him. He kindly declined the offer and typically said 'thanks son but no-one will want to hear what I want to say, it's the players you want to speak to, they were the ones who deserve the credit.' While disappointed not to have got an interview with I totally respected his decision. He was such a private man and wanted to stay very much in the background.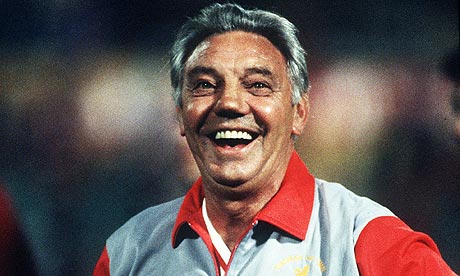 A lot of research has evidently gone into it. How was that? Was it difficult to choose what to put in and what to leave out?
The research was extensive but it really was a labour of love and I enjoyed every minute of it. When I set out on the project I feared that there might not be enough material but I couldn't have been more wrong. To be honest there wasn't much stuff that had to be left out and I hope the readers agree that the end product is a very comprehensive overview of Joe's life and career.
The diaries that Joe used to keep are at the heart of this book. What did it feel like reading them? Was it tough to choose what to leave out?
Yes, this is where we had to be a bit more selective about what to include and not to include. It was fascinating to flick through the diaries and it really gave you sense of what it must have been like to be in the bootroom all those years ago. The diaries provided Joe with a voice in the book and this helps us paint a much clearer picture of what must have been going through his mind, which I feel was vitally important to the book. The diaries aren't reproduced in full as a lot of entries in them are quite repetitive when it come to training routines and tactics, but I'm sure his private thoughts on certain players, situations and matches will be of great interest to the fans.
What amazes me from the snippets that you've included in the book is how simple those diary entries were yet, at the same time, what depth of thought and analysis they contained. It was as if he could take a complex issue and strip away the frills until the basic concept remained. That for me is a true mark of genius. Don't know if I've explained myself well enough and, at the same time, don't know whether you agree or not?
I totally agree. Where Joe and his bootroom colleagues were concerned simplicity was the key and this common sense approach to the day-to-day running of the football club was what made Liverpool so special.
Was there anything that surprised you as you were writing this?
I always knew Joe was a highly respected figure but from the interviews we carried out I'd say he was held in even greater esteem than I thought. Every person we approached to be interviewed about the book was more than willing to co-operate and no-one had a bad word to say about him.
Do you think that Joe is appreciated enough both by Liverpool supporters and by the general footballing world?
I'd say he's appreciated by the Liverpool fans, hopefully even more so after they've read this book, but beyond the confines of Anfield I don't think people know that much about him. Yes he guided Liverpool to the treble in 1984 but his stint in management was so short that football fans in general quickly forgot about him.
How gut wrenching was it to write the Heysel part?
I was only twelve in 1985 and watched it all unfold on TV. That was gut-wrenching at the time and writing the chapter on it brought everything flooding back. In fact, it hit home even more so. It was a tragedy that so easily could have been avoided. For the 39 people who lost their lives it was such a tragic and unnecessary waste of life and, of course, a sad, sad way for Joe to bow out of the game he loved.
What's next for you?
On a day-to-day basis I'll carry on in my full-time job as a producer for LFC TV, the club's television channel, but I've got plenty of ideas for future books and in my spare time at the moment I'm working on one with the original 'Supersub', Liverpool legend David Fairclough. It's still early days on that so no news yet on when that will be published but hopefully it won't be too long.
You can read our review of Joe Fagan: A Reluctant Champion here. Mark Platt can be followed on Twitter as can, obviously, A Liverpool Thing.
Category Book Reviews, Interview
---
Linkbar