Archive for January 2011
5
Thursday, January 20, 2011 by Paul Grech
The talent of some players is easy to spot. They have the passing ability or the fancy tricks that catch the eye and stand in memory. For them, everything seems to come easily; perhaps too easily considering how many ultimately fail to progress when it starts getting difficult.


Other players know that there they have limitations but that knowledge helps make them better. They realise that they must train harder and give everything during games because otherwise they'll have nothing to behind which to take cover; they can't point to some amazing goal scored as their contribution. These players tend to be overlooked with their impact on a game being considered as irrelevant. Yet players with such a character are as important to teams as those who can put through a match winning pass. For these are the players who can pull a team through when others are struggling and they are the ones who really shine in difficult moments.
It is such determination that marks out John Flanagan. Nothing that he does gets anything other than his full commitment. He throws himself in every tackle, every pass, every run he makes. Comparisons can be ruinous for those of his age but it is impossible not to see similarities between him and Jamie Carragher. It is hardly surprising to learn that it is on the Champions' League winning defender that he tries to model his game.
Those who have been following Carragher for some time, however, know that there is more to him than commitment. And so too with Flanagan. His tackles might be hard but his awareness of what is happening around him allows Flanagan to anticpate passes most of the time rather than having to dive in to get the ball. When he does have to tackle, there is an impressive maturity to him because very rarely does he concede what can be considered as silly fouls, the kind which senselessly result in free kicks from dangerous areas. As with some of his most illustrious predecessors, his tackles might be hard but they're also fair.
A defender's role today, however, isn't simply limited to stopping play but also being able to play the ball and support attack, a need that is even more pressing for full-backs. It is an aspect of his game that needs improvement and, typically, he has been working hard to do just that. The progress he has made since stepping up to the reserves has been astounding. Few knew of Flanagan when he first joined up that set-up but since then he has consistently been one of the best players. From an unknown he has become someone being spoken about as having a chance of making a further step up.
For that to come about there is still some time ago - and perhaps a loan period elsewhere to gain experience - but if he keeps improving as he has that is a gap that should be bridged.
Category John Flanagan, The Lad Can Play
---
3
Friday, January 14, 2011 by Paul Grech
Book Review: Scouting for Moyes by Les Padfield


If nausea happens to be your initial reaction upon seeing what this book is about, then it would be understandable. These days everyone remotely involved in the game of football seems all too eager to write down his life story irrespective of what comes out. So it is that you have players writing two or three biographies before they're in their mid-twenties, managers willing to say who they've fallen out with and why, fans believing that their passion outstrips that of anyone else and hooligans boasting how many heads they smashed in. A handful of these books have been memorable, the rest considerably less so.

So, it is only natural to fear the worst when you realise that a scout has now gotten in on the act.

Football scouts are everywhere, from kids' games to internationals, yet they might as well be invisible for all the attention they receive. And, in all honesty, that's how it should be. There might be one or two who are exceptions in that they spotted a talent that others had missed but most simply form part of a network and no decision is made exclusively on what they say.

This is something that Padfield proves in this book. Working at Bolton, he can name some players whom he had spoken highly of - Klasnic being the one he mentions most frequently - but given the time that goes by his recommendation and the actual transfer, he is honest enough to admit that others had also been asked to look at those same players before a decision was made. Not to mention that players he had warned against signing joined the club regardless of what he said.

And that is what elavates this book; Padfield's honesty. His opinion of managers doesn't seem to be particularly high while his lack of affection to the clubs he works for is slightly disturbing.

Nothing, however, beats the shock of realising the amateurish way scouts are picked up. Quite possibly, Padfield's experience was atypical but what got him in the world of scouting is simply a chance encounter with a former team-mate. No interviews to gauge his knowledge, or long talks about tactics; just the fact that he lived in London which is an area where a northern club happened to need someone to look at teams and players. Ultimately, you get to realise that scouts - or, at least, those who are similar to Padfield - are simply fans like the rest of us. They have no magic formula or keener sense of observation; they only have a little bit more experience.

His honesty is also what got him in trouble. A few weeks after this book was issued, Padfield was told that his services at Bolton were no longer required. Hardly surprising, given his constant (and justified) criticism of Zat Knight, Fabrice Muamba and Johann Elmander. At one point in the book he wonders that probably he hasn't got long at Bolton; words that turn out to be prophetic. Yet, if indeed it was this book that cost him his job, then it probably was worth it.

Scouting for Moyes could have benefitted from tighter editing: it would have been nice, for instance, if someone would have pointed out to Padfield that it is the Swiss who are famous for their neutrality rather than the Swedes before he embarks on a rant about Johan Elmander's inability to score. And the final few chapters, devoted as they are to the couple of weeks he spent in South Africa watching the World Cup, seem artificial when put in the context of the rest of the book and could (perhaps should) have been left out.

These faults and, let's admit it, the lack of any really notable players spotted by him mean that this book is neither memorable enough nor insightful to have any ambitions of being a classic. What it certainly is, however, is an enjoyable read and there aren't many football books coming out these days that can claim that.

PS: For those wondering, the title of the book is a joke by the author. To find exactly why that is, I'm afraid you'll have to read it.


Category Book Reviews
---
5
Wednesday, January 12, 2011 by Paul Grech
Once bitten twice shy.

When Tom Hicks and George Gillett bought Liverpool FC back in 2007 there were many who looked at their track record, didn't like what came up and promptly dismissed it.

It is easy to blame David Moores for not looking enough at how they carried out their business – and, indeed, he had the responsibility to do that part of his job better – but the truth is that most of us had heard about how Gillett had gone into bankruptcy because he had over extended himself with loans or of the mismanagement at the Texas Rangers but no one was willing to put the pressure on. The warning signs were there for all to see. Yet the over-riding argument at the time was that these were businessmen who had made millions so they obviously knew what they were doing.


Now it is lesson learned and, for better or for worse, any new owner was going to be looked at with a fair degree of skepticism. The thing is so far it has been virtually impossible to find anything bad said about NESV. It isn't that they haven't made any mistakes but that they've always tried to act on them; to ensure that lessons have been learned.
If anything, what has come out strongly so far is the consistency with which they handle similar issues meaning that it is easy to trace an outline of their managerial philosophy.
It is this thought of using what they have done at the Red Sox to predict how they may handle issues at Anfield that drove me to buy a 2005 book by Steve Goldman called 'Mind Game: How The Boston Red Sox Got Smart, Won a World Series, and Created a New Blueprint for Winning'.
For over eighty years the Red Sox had hidden behind a series of myths – the curse of the bambino being the main one - to excuse their failures. In truth it was mismanagement at all levels of the organization that were at the root of their problems.
It is the same at Liverpool. We quickly dismiss Manchester United's success as being exclusively down to their spending power when it is clear that, although it is a great help, it is not the sole reason. And that's only one example.
It seems unlikely that FSG will hide behind any such excuses. As an average, the New York Yankees spend 30% more on salaries then the second highest spender in American baseball (which happens to be the Red Sox) yet Boston have won two World Series during the past decade. Such a sustained degree of success, especially in a sporting culture designed to avoid having a single dominant team, can only be the result of a philosophy that has an edge on the rest of the league.
This is something that comes out clearly in Mind Games. And, if you read carefully, you can make out the main tenants of NESV's philosophy and link them to what they might do at Liverpool. Which is what the rest of this piece will be dealing about.
They Won't Use Anfield as an Excuse
"John Harrington, the last ruler of the Red Sox before the Yawkey Trust finally sold out called the team a small-market ballclub whose efforts to compete were handicapped by their small ballpark. There were no magic spells at work, only failures of intelligence, concentration and imagination"
Many have drawn parallels between the Boston Red Sox and Liverpool FC with good reason: it is uncanny how many situations the two clubs share.
One of the more pronounced is the stadium issue.
When NESV took over at the Boston Red Sox, the popular perception was that they would push to move out of Fenway Park so as to be able to command greater gameday revenue. Yet they did nothing of the sort, opting to redevelop Fenway Park and increase revenue in other ways.
There's no guarantee that they will do the same at Liverpool but at least there should be the awareness that they won't hide behind the size of Anfield (and the resulting shortfall with other clubs) to justify any form of failure. Any decision made will rest purely on its merits and not because the rest of the world expects them to make it.
They Know Value of Building a Squad
"The loss of any one player, no matter how great, is not enough to derail a competently run franchise."
Although Curt Schilling played a huge role, the 2005 World Series wasn't won because of the talent of any one individual but rather because there was a good unit with players of different abilities capable of slotting in when their time came.
For years, Liverpool have been almost entirely dependent of two or three players. If anything happens to any one of them, then the team struggles to cope. Although star players obviously help success can only be achieved if the rest are, as a team, capable of playing on their own if need be.
They Won't Buy Players Just for the Sake of It
"The shopping spree mentality one might expect of a new owner was conspicuously absent. Henry's good judgement sharpened by many years in the financial trenches, had helped him evolve a prudent, measured approach."
Although it would be unfair to deny that his signing generated a fair degree of excitement when it was announced, it is becoming all too clear that Joe Cole was signed largely to placate the fans. Whatever the intentions, Cole is a player who isn't adding anything to the side other than greatly burdening the pay roll. He might turn out to be a very good player for Liverpool, but he wasn't bought for his playing abilities. There will be no repeats of such signings.
They'll take their time deciding on management
Upon taking over at the Red Sox they removed the unpopular GM Dan Duquette. But it was the off-season (although too late to start hassling other owners about their GM). For the first season they made do with Mike Port, who knew the industry very well even if he wasn't their first choice, not because they really believed in him but because they wanted to take their time and get someone they really wanted.
At LFC they have made quick decisions where they had to (chairman, removing Purslow, appointing Comolli) whereas in other areas they wanted make a step backwards to ensure they made the right decision.
The same applies to the club's coach. Grady Little was allowed to stay at the club but when he proved to lack the imagination and share the strategy that the club was trying to follow, he too was removed and this despite a not too shabby record. This greatly echoes what they tried to do with Roy Hodgson even if, ultimately, they were forced by circumstances to get rid of him.
The situation with Theo Epstein (the Boston Red Sox's highly regarded GM) is also indicative. Initially, Epstein was tasked with finding the man capable of being the organisation's GM (Billy Beane of Moneyball fame was one of the three main candidates) but when none of the people they wanted were willing to join, they turned to Epstein himself to take the role. Shades of what Kenny Dalglish's situation perhaps?
Once Right Structure is In Place Things Will Really Kick Off
"After moving into the office which he had been trying to find an occupant, Epstein was given free rein to aggressively solve the team's roster problems"
Already, there have been one or two impatient calls enquiring why they are taking so long to appoint a CEO. Yet the truth is that this isn't a position that is easily filled or that can easily be changed if the wrong person is appointed.
It is only once such an appointment is readied that they will be able to define a strategy and act on it.
They'll Spend Money If Needed
Although they try to be intelligent in the who they get and how they build their roster, there is the realization that you need to spend money to get the players that help add another dimension to the team's play. When they identified Curt Schilling as a pitcher they wanted to get, they had to compete with the New York Yankees to get him. On this occasion flexed their financial muscle and won. It was a decision that paid rich dividends in key games.
They Learn From Their Mistakes.
The failure (to sign Alex Rodriguez)had a powerful positive effect as well: A-Rod's non arrival proved to the club that the front office had built a team robust enough to withstand the loss, to its sworn enemy no less, of the league's very best player.
There is an added reason why Tom Hicks was so hacked off at seeing his club 'stolen' by NESV and it had its root in their previous dealings. In 2003 they had been negotiating over Alex Rodriguez whom Hicks had famously overpaid (without providing a good supporting cast) at the Texas Rangers. Negotiations were difficult not least because they needed to get the approval of the Players' Association since it meant renegotiating Rodriguez's contract.
After weeks of working on the deal and being frustrated when progress seemed to be getting made, Larry Lucchino (one of the owners of NESV) went public in blaming the Players Association and claiming the deal as dead.
Negotiations went on but the deal eventually fell through and Lucchino's comments were seen as having played a key role. A few weeks later, A-Rod moved to the New York Yankees with very little mentioned in the media.
It was a bitter defeat but one that taught them some important lessons:
Keep a Unified Front
There will be no repeat of Hicks and Gillett who fell out very publicly and left a power vacuum at Anfield;
Don't Burn Your Bridges
Even if things aren't going your way, at least leave alive the hope and possibility of turning everything around.
Don't Do Your Negotiating in the Media
For all the informed sources, how many people knew of the deal to buy Liverpool before it was announced on the club website? Practically no one. Same goes to the appointment of Damien Comolli. And, probably, the same will go as far as the CEO is concerned with everyone learning who it is when it is officially announced and not earlier.
You can follow A Liverpool Thing on Twitter.
Category John W Henry, Kenny Dalglish, NESV, Tom Werner
---
8
Wednesday, January 05, 2011 by Paul Grech
A club that exists to win trophies. Remember when that used to said about Liverpool? And remember when people actually believed it because that is what happened every year?

The way things have unfolded this season, saying such a thing about the club at this present time isn't even funny. Slowly the realisation that mid-table mediocrity is the best that can be expected has filtered through. True, there's still the FA Cup and Europa League at stake but is there really the belief that either one can be won?

Yet, strangely enough, the Liverpool fans won't accept it. And they won't accept a manager who seems to believe that it isn't so bad.

That much has been evident for quite some time but only recently have such feelings been made public. Funnily, though, the reaction by those reporting this – or at least some of them who hate admitting they were wrong in backing Hodgson so strongly last summer and ever since - has been somewhat bitter. It is as if it is the fans who are dishonouring the club's history rather than the results and quality of football that has been played out on the pitch.

This is a group of players that Hodgson inherited is the mantra among those who supported his appointment; a group of players that finished seventh last year. Not to mention that a manager needs time to impose his beliefs and mentality. Of course both are fair points, but much like a magician who draws attention to one hand so as to hide what he's doing with the other, they're also arguments aimed at perpetrating the illusion that it isn't Hodgson's fault.


Because, if that wasn't the case they would be able to explain why two out of the three players that Hodgson bought – Konchesky and Poulsen – aren't even close to being good enough for Liverpool.
Nor do Hodgson's defenders explain his tactics; the long balls raining towards Fernando Torres, why Liverpool defend so deep, why the defence can't seem to grasp what they should be doing, why there doesn't seem to be any conviction about the importance of imposing yourself rather than letting others dictate the game.
Those are questions that go unanswered or else, inevitably, blamed on the players who aren't good enough. Which, come to think of it, doesn't stack up as most of these players formed part of the side that got so close to winning the league two years ago. And yes, last season Liverpool finished seventh and played horrendously at times but they were always towards the top end of the league table, not looking worriedly backwards at the relegation zone as has become the norm this year.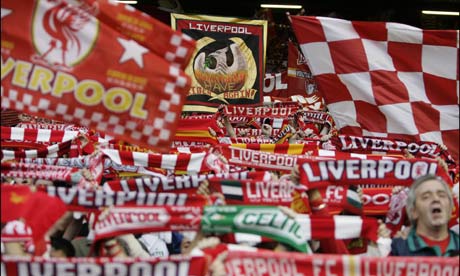 The truth is that Hodgson has retained the same mindset that he had at Fulham. Clearly he is of the firm belief that the tactics which worked at a club that traditionally considered a mid-table finish as an achievement are good enough for one that aims to be challenging to win things. After all, he said so himself. It is seen in the players he feels are good enough for Liverpool, not just Konchesky and Poulsen but also Carlton Cole, whom he has publicly admitted to be interested in. He still believes that getting turned over at Stoke or Blackburn isn't that bad. But that isn't good enough for Liverpool
For Fenway Sports Group, the time has come to make a very important decision. It might be one that they hoped they wouldn't have to take – more because it didn't fit with their immediate strategy rather than any particular belief in Hodgson - but one that they have to take nevertheless. Accepting the situation as it stands today is tantamount to lowering the high standards that used to be set for Liverpool FC, which also equates to an insult to the club's history and those who worked so hard to make it so great.
If that's the case, then it's probably unfortunate for them that the fans won't be accepting that any time soon.
---
Linkbar