Archive for April 2011
10
Thursday, April 21, 2011 by Paul Grech
Some of the qualities that mark a great player are rather obvious and are largely centred on how he uses the ball when it is in his feet. Other qualities, however, are not that apparent. Strength of character, for instance, falls into this category. With the first, one can achieve some success but that won't be lasting if there isn't also the latter.

It might be too much – or perhaps too early – to call Lucas Leiva a great player but, even so, he is perhaps the ideal player to put forward as an example that proves such a claim. No player can be voted as being the best in Brazilian football if there isn't some obvious talent but for two years Lucas struggled to show that at Liverpool.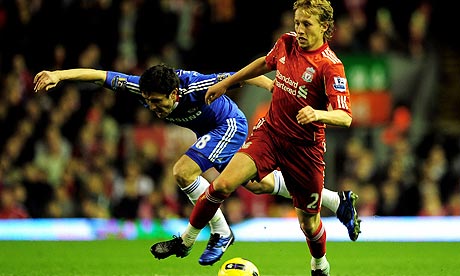 It was hardly surprising. This was a young player who had not only moved from a completely different culture but was playing a style of football that was alien to him. The speed with which the ball got moved around along with the little time afforded to anyone having possession of the ball was a shock to his system. What he went through was understandable.

Yet not everyone understood. Shamefully, there were many who constantly picked on Lucas. Good games would be pushed aside whilst bad ones – or even bad spells in otherwise decent performances – would be used as a stick with which to beat him.

Others would have given up and pushed so that one of the many offers that came in for him from across Europe would be accepted. Most would have hidden behind the criticism to claim that any lack of progress was down to the unnecessary pressure being put on him. But, rather than take the easy option Lucas stuck it out, worked hard and has emerged as a fine midfielder; perhaps even more than that.

That much is recognised by the fact that the criticism has stopped. Although, in truth, that's not the case: it has merely been shifted on to others.


Last summer, Liverpool signed Danny Wilson. A central defender who had impressed hugely at Rangers, he had won the league playing fairly regularly despite being just eighteen years old. There was an acceptance that he would need some time to develop but little doubt about his potential.
Yet, at least there seemed to be that acceptance because patience with him seems to be running low. Little does it matter that when he has been called to play for Liverpool this has been out of position at left back. Much less that, defensively, he has shown that he can play at this level. What matters is his apparent inability to offer anything going forward.
That is where the attention has focused and that is what has led to criticism. So far they haven't been too audible but the groans that used to welcome Lucas every time he got on to the pitch are now being heard when Wilson gets near the ball.
Not that he's alone to get this treatment. Up till a couple of months back, there were plenty willing to write off Jay Spearing. This despite him excelling in the reserves and doing reasonably well when given a chance in the first team. No one complained as vociferously as they did with Lucas but that was because he didn't play anywhere as near much as the Brazilian and also because he was a local player which obviously granted him added leeway.
Now Spearing is proving that what he needed was games to show what he could do. He, like Lucas, had the mental fortitude to keep on working hard to improve despite the criticism that was coming his way. The hope is that Wilson is made of similar stuff.
Yet it shouldn't be like that. This apparent need to classify a player as good or bad within a handful of games is not only illogical; it is harmful. Some players just aren't good enough to play for certain clubs but that's not what's in play here but rather a perverse desire to find villains to blame. And once they're identified, there's hardly anything that they can do to get out of it. From then on they become a very comfortable commodity for those who can then condense every defeat or bad performance to that player's perceived failing.
Such a failure to recognise that players need time to settle and, much worse, that they are working hard to improve is a myopic attitude that makes a mockery of the phrase supporters, people who's sole purpose should be that of giving encouragement to their own players and not sucking it out.
Category Character
---
0
Monday, April 04, 2011 by Paul Grech
I was around twelve the first time I saw a copy of When Saturday Comes. I still remember the front cover – it included a jubilant Stig Inge Bjornebye after Norway had beaten England – but what really impressed me were the articles that it featured. This was no Match or Shoot but something more grown up.

From that day on, I kept on buying the magazine fairly regularly until I received the latest notification a few weeks ago that my subscription was about to expire*. It was at that point that I realized: I haven't read any of it for quite some months. In fact, apart from the book reviews, I rarely bother with anything else.

The reason is the internet. Whereas the articles featured in it used to represent a point of view or a story that I never knew of, now you can find articles that are equally as good if you know where to look for. It no longer contained anything special enough to get me reading it from cover to cover.


It has been the same for many other publications. World Soccer stopped being of interest years ago** and my FourFourTwo subscription could easily go the next time it is due. And, going by the constant reports of the challenges faced by the publishing industry, I'm guessing that I'm not the only one.
So what is it that gives
Blizzard
, the recently launched football publication, anything of a chance? Well, for one thing, it isn't a magazine. In the editorial, it is described as neither a book nor a magazine. Indeed, the best possible description is that it is an anthology of football writing (or, as
Swiss Ramble
put it to me on Twitter, an anthology of mighty fine football writing).
But, before we go any further, perhaps it best to give a little bit of background to Blizzard. This is effectively the brainchild of Jonathan Wilson – author of Behind the Curtain and Inverting the Pyramid – who felt that writers were being stymied in what they write by the inherent limitations of the publication they work for.
His feelings were shared by many others so he decided to provide a solution in the form of a publication that would give writers practically a free hand in what (and to what length) they write.
The end result is a collection of stories by some of the best writers around all of whom are clearly writing about subjects they enjoy and reveling in the freedom to write as much as they want. Inevitably some are better than others – and I'm not going to name which (although the St. Pauli one by Uli Hesse is a favourite) – but the quality never drops below great.
With Issue Zero adopting the pay as much as you want model, there's really nothing to stop anyone from downloading a copy. Subsequent issues will be more expensive - €10 excluding postage seems to be the set price – but if they're of the same quality of this, they're well worth it.
Indeed, in my mind they're so worth it that I've subscribed for a full year. And you can't be more complimentary than that.
More information on Blizzard can be found on their website or by following them on Twitter. If you like this review, or would like to share an opinion about it, you can do so by leaving a comment below or else by following A Liverpool Thing on Twitter.
* In fairness, the quality of articles on When Saturday Comes is quite good (although it is just as good – and free – on sites like Two Hundred Percent and In Bed With Maradona). My problems with them are others: it isn't distributed where I live (Malta), shipping costs are high and there's no Kindle version meaning that if I have to read the electronic format I have to watch it on my computer which doesn't fit my lifestyle. I suspect that if they were to produce it in Kindle format, I would re-subscribe.

**I've still to recheck World Soccer after their recent re-design which could possibly make me change my mind.
Category Spreading the Word
---
Linkbar