Archive for July 2011
0
Wednesday, July 20, 2011 by Paul Grech
When talks were first being held for the formation of the supporter's union that eventually came to be known as Spirit of Shankly, it was to Karen Gill that they turned. From her, the grand daughter of Bill Shankly, they wanted confirmation that they could refer to the great man in the name of this union that was being set up to help save the club that he himself had transformed in the sixties.


When the reply was delivered, it didn't simply contain the confirmation they were looking for but also an inspirational message that gave the Shankly family's wholehearted support to the union. "My grandad had a dream for Liverpool Football Club and you are all helping to keep that dream alive," she wrote. "It's the people with dreams who achieve things in the end because they have a vision which drives them on. We know Bill Shankly 'made the people happy' but I know that you would have all made him happy were he alive to see this legendary support today."
As Brian Reade noted in his book an Epic Swindle, "Karen is a marvelous woman who has inherited many of her grandad's traits, not least his fight and his passion."
Considering the relationship that Shankly had with the fans, Karen's reaction was always something of a foregone conclusion. "They literally meant everything to him," she says when the question of what the fans meant to her grandfather is put to her. "The club and the fans were his life. No exaggeration."
"He'd be shocked and appalled at football today in general and he would be devastated
at the terrible damage that Hicks and Gillette did to his beloved club," she continues, looking back at the past three years. Yet it is also reasonable to assume that he, given his Socialist ideology, would have been immensely proud to see the fans working so hard together to get rid of those who were destroying the club.
Typically, Karen's favourite memory of here grandfather in a football context includes the fans. "I like all the stories about him taking time out to visit sick children at Alder Hey Children's Hospital and I've had messages from adults who say they remember his kindness to them to this day."
As for Karen herself, what she remembers is a kindly and playful man. " I have many recollections of my grandfather. Firstly I spent most of my childhood with him. We would always eat together on a Sunday at his house or sometimes he would take us to a nice hotel in the centre of Liverpool for a special meal. My favourite times though were when he would take us to Anfield and we'd run around and sometimes get to sit on our favourite player's knee!"
At the time, however, she didn't fully realise who he was and why he was so important."I always knew he was important as from an early age I saw that he was followed around by people wherever we would go. People were always coming up to him and talking football. Journalists were always on the phone to him etc. But it wasn't until I came to Greece that I realised the extent to which he is admired, literally all over the world."
In time, this sparked off her desire to write a book about him with the result being the excellent The Real Bill Shankly that came out a couple of years back. "That was one of the best experiences of my life. I'd wanted to write a book about my granddad for a while but it was when I met the supporters from the official Liverpool Supporters Hellenic Branch that I realised that I should do it. I talked about the idea with Stephen Done (the curator of the Liverpool Museum) and he put me in touch with Ken Rogers from Trinity Mirror and he thought it was a great idea. I just wanted in some way to help keep my granddad's memory alive"
If that was her aim, then she has done her job to perfection. Just as, with her determination and inspiration at the birth of SOS, she was more than honouring the legacy of her family's surname. Bill Shankly would most certainly have approved.

This article was originally published in Issue 8 of Well Red magazine.
Category Bill Shankly, Interview, Well Red
---
0
Wednesday, July 13, 2011 by Paul Grech
When Martin Kelly joined Huddersfield for a couple of months towards the end of the 2008–09 season, it was the perfect move. This was a team that played football the way that it should be played – ball on the ground and with a thoughtful passing game – and a manger who had confidence in the player he'd just gotten.


Unsurprisingly, it was a setting in which Kelly excelled. He played in all of Huddersfield's games, scored a goal and proved that he more than had the talent to play at a higher level. When the call came for him to play for Liverpool he had that little bit of experience needed not to be overwhelmed by it all; the kind of experience that players don't get playing sporadically for the sadly devalued reserves football.

Yet Kelly's experience was an exceptional one. More common are the instances where a player is sent out on loan to gain experience but ends up spending his time on the bench, with the manager being more interested in having someone of good quality as back up. And, in truth, it is hard not to understand their lack of inclination to take any risks for someone else's benefit.

Not that this makes it any less frustrating. The loan system provides a crucial bridge for players who aren't getting anything from playing in the reserves but either aren't ready for the first team or else have to compete with someone who is better than them to get there. In theory, a loan move should help them continue developing by playing at a higher standard, against tougher – at least physically – players in games in which the outcome is actually important.

In reality, far too often they end up frustrating and alienating players.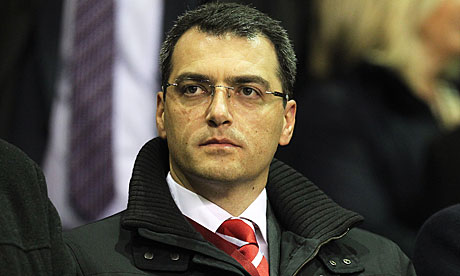 It is something that Damien Comolli admitted to recently. "I think that the step between the first team and the reserves is a challenge for every single club in Europe and the bigger the football club the more difficult it is," he said in an interview with Leaders in Performance. "We haven't found the right, or perfect path or the right balance and I still think we've still got a lot of improvements to make from 18 to 20, 21. Those 3 years are a bit touch and go in football at the moment."

Benitez's View
His views are shared by Rafael Benítez. "It is clear that the reserve system doesn't work, the reserve league is nothing," he said back in March 2007. "You can see youngsters playing just 18 games a season, that is nothing. Certainly not enough for the development of these players. It is something that we can improve in this country. I do not want to see reserve teams with four or five senior men playing without passion. These games are for young players."

"Between 18 and 21 years old in this country, the players do not know what to do. If they are good enough at 18 they are with the first team but they are sitting on the bench all the time."

Benitez's solution to this problem was a highly controversial one. "I used to be the manager of Castilla, Real Madrid's reserve side, and I had players who were 18, 19 years old playing in the Spanish Second Division. They were playing against men and we finished sixth and fourth."

Given the attitude towards Benitez inevitably it was an opinion that was turned into a stick with which to beat him. Whilst the pride that comes from the continued existence of more than 100 professional clubs in the league and non-league system in England is understandable and it would be wrong to undermine the value of the lower leagues, the criticism focused on Benitez wanting to impose his nasty foreign views rather than on what he was saying.

No one really answered his criticism of reserve league football and how it was doing very little to help in the development of players. There was little appreciation of what he was arguing and a lot of focus on the possible solution that he was proposing.

Admittedly, as possible solutions go it wasn't a particularly feasible one, but there are variants to it that very few clubs seem to have looked into, that of building partnerships with particular clubs.


The Value of Partnerships
There are clubs across England who share Liverpool's ideology of playing a passing game. Some of these clubs also operate on budgets that limit their chances of development. Such clubs are the ones that should be looked at for they are a perfect fit for Liverpool who could help fill gaps in their squad safe in the knowledge that these players are going to be schooled properly.

The aim isn't to turn them into feeder clubs but rather that of matching what both sides need; good players on one part and a place where to develop players on the other.

Encouragingly it is a solution that, perhaps, is already on Liverpool's radar. "The loan system is managed by myself and the Academy Director. It's crucial to the player's development. It is managed properly and thoughtfully," Comolli said in that same interview with Leaders in Sport. "We speak to the player after every game, the local scouts pay a visit to the player to ensure everything is fine and then we kind of have a list of clubs that we are keen to send the players to because we know the type of football they will play, the way they train, we know they will look after the player. We don't want to be in a situation where a loan will be dictated to us, we prefer to be proactive."

Those are heartening words that hint to an end of the haphazard nature and destination chosen for players in the past.

Increasing Value
One of the clubs on Comolli's list could be the Belgian champions of Genk. Even though talks of setting up a link with them began before he joined the club, the channel of discussion has clearly remained as evidenced by the presence of Liverpool defender Chris Mavinga in their title winning squad.

And Mavinga is a perfect example of a kind of loaned player that is different to the ones discussed so far: those who are sent out purely so that their value can increase.


It is a system of which Manchester United are the masters. They send a player on loan, he does well, generates interest and is then sold on the back of that interest. Which in turn alerts other clubs – possibly ones higher up the league structure - that United is a great place to look for players to take on loan. And so the cycle continues.
Of course, there are players who are sent on loan because they need to be tested to see whether they can handle playing for United but the reality is that most won't be good enough.
Liverpool have never managed to do this but reports of bids in the region of £1 million for Mavinga show just how much potential there is. In the grand scheme of things, these aren't huge figures but if they are re-invested in the academy, they would help improve the flow of talent meaning a higher probability of players good enough for Liverpool FC coming through.
There is, of course, the risk that Mavinga is sold and then turns out to be much better than anyone had realised; that Liverpool made a mistake in letting him go. That risk can never go away but it highlights the importance of having a well managed loan system, one that allows Liverpool to learn how that player is training and how he is reacting to his new environment. Such feedback provides a better way to gauge how a player is developing and determine how far he can develop making any eventual decision a more informed one.
And that is the crucial factor. Does a player have the potential in him to play for Liverpool FC? Does he have the character and desire to work hard to achieve this? Is he up to it physically? Is he improving and learning from his mistakes? They are all questions that a club hopes to be in a better position to answer when a player is sent out on loan.
And they are the kind of questions that make a system of partnerships the ideal one for the English game because it offers the best way for players to make that delicate step between youth and senior football.
Category Academy, Damien Comolli, Rafael Benitez, Reserves
---
0
Friday, July 08, 2011 by Paul Grech
With everybody now seemingly on Twitter, it is difficult to know who is worth following especially if you're looking for decent football opinions. So it is that I've tried to compile a list of the best people out there who are well worth following. Be warned, however that as a rule I tend not to follow player - do they ever have anything really of interest to say? - nor do I have any of the major media outlets so you won't find anything like that on here. Also, if you're looking at Liverpool related Tweeters, there's another list that groups those together.

Jonathan Wilson
One of the finest football writers out there and the editor (as well as brains behind) of the fantastic magazine Blizzard, connecting to Wilson is useful because, if nothing, it ensures that you hear of his latest articles.

Gabriele Marcotti
There are few people as knowledgeable and as eloquent as Gabriele Marcotti, and that somehow manages to come through despite the 140 character restriction.

David Conn
A new addition to Twitter, Conn is the best writer on football finance out there.

Ian Macintosh
No one can take an off-beat topic and make it work as well as Macintosh. Funny but also geniunely insightful, follow him and enjoy.

Zach Slaton
There has been a gradual rise in the phenomenon of statistical analysis in football but few do it as well Zach Slaton.

In Bed With Maradona
When there are sites that offer content as good as In Bed With Maradona, it is difficult to justify paying for content. Following them on Twitter means that you'll never miss a new piece.

Tomasz Mortimer
One of the great beauties of Twitter is that you can come across people who are interested in football from all over the world. One of these is Tomasz Mortimer, whose particular focus is Hungarian football and the fortunes of Hungarian footballers all over Europe.

James Eastham
A freelance journalist who focuses on French football, he's always more than willing to answer any queries.

John Sinnott
A writer with the BBC, Sinnott revels in articles about the development of young athletes which also happens to be an area which fascinates me. So the interest in what he writes is obvious.

The Equaliser
This is a hidden gem of a blog, particularly the series focusing on specific decades over the past century, and the equaliser's thoughts are always worth reading.

John Chapman
The man to follow if you want to know how Standard Liege, Genk and co are doing, he'll answer any queries that you might have on Eden Hazard and Romana Lukaku.

Dan Roan
Really came to prominence during the Liverpool takeover when he was among the key people to follow if you wanted to know what was going on.

Ernst Bouwes
The main writer of Dutch football for Soccernet, Ernst is the man to follow if you want to keep informed about what's happening in Holland.

Christian Larrson
If transfers are your thing - and, let's face it, who doesn't like to know who you're going to sign? - then Christian is the man to follow. With the added benefit that most of what he says is reliable.

Michal Zachodny
Another of the foreign football brigade, Michal is the man to follow to see how Jerzy Dudek's compatriots are doing.

Rocco Cammisola
It would be easy to classify Rocco Cammisola as someone who follows and writes about Italian football. In reality, he does that and more; providing an interesting and insightful commentary about what's happening in the Serie A.

Daniel Richardson
Slovakia is Martin Skrtel's homeland, and also the country that Daniel Richardson likes to focus on.

Swiss Rambler
For all of David Conn's talents in looking at football finance, he does not have the freedom to write analysis as detailed and varied as the ones that Swiss Rambler prepares.

Zonal Marking
Michael Cox, the man behind Zonal Marking, is perhaps the author of the most significant developments in football blogging of the past twelve months and has almost singlehandedly made talking about tactics fashionable. It follows that his tweets are equally insightful.

Tom Williams
Tom Williams is the man who covers French football for Agence France-Presse (AFP) so it is easy to guess why he is worth following.

Ben Lyttleton
Another expert on French football, Lyttleton writes in a number of outlets and is always more than willing to answer any queries.

Radu Baicu
As with many others, Radu makes it onto this list because of his country specific focus which, in his case, is Romania.

James Horncastle
A great writer for a whole series of publications, Horncastle's main patch is Italian football.

Tor-Kristian Karlsen
One of the most famous football people on Twitter, certainly among those who aren't players, Tor-Kristian is a football scout who has an incredible knowledge on players across the globe and offers a genuine insight into the workings of football clubs.

Raphael Honigstein
Honigstein has built a strong reputation over his coverage of German football so should be on of the people you follow if you want to keep up to date with what's happening in the Bundesliga.

Andy Brassell
Regular contributor to what is probably the finest podcast around - the World Football Phone In - Brassell is an expert in all things concerning European football

James Appell
An expert on Russian football, but also a close follower of the English game, Appell is the man if you want to distinguish your Voronins from your Arshavins.

Sid Lowe
Sid Lowe has long been considered a fine writer on Spanish football and has recently enhanced his reputation with a series of excellent interviews with leading Spanish players. His Twitter timeline is filled with excellent observations on the Spanish game and, occasionally, a rant against those who are too prickly against alledged criticisms for their clubs.

Joel Richards & Sam Kelly
Argentine football is blessed with a number of excellent reporters two of which, Joel Richards and Sam Kelly, both are very active on Twitter.

Paolo Bandini
The Guardian's correspondent on Italian football (and American gridiron), he's another who's always good to follow to know what's happening in another part of Europe.

Remember our guide to Liverpool FC people to follow on Twitter can be found here.
Category Twitter
---
1
Tuesday, July 05, 2011 by Paul Grech
Much has been said about the excellent job that Pep Segura and Rodolfo Borrell have been doing at the Liverpool academy yet, at the same time, very little is known about the actual strategy behind their work. Everyone has been saying that they've brought over Barcelona's model without knowing what that model is about outside of vague concepts.

Yet there is now more clarity thanks largely to a presentation made by Pep Segura at a football conference organised by the Catalun INEF (a physical education programme) and RCD Espanyol.

What follows is a summary of Segura's talk, translated from the blog of well known Catalan writer Martin Perarnau and presented with his permission.


The 'target' of the Liverpool Academy is twofold: to implement a common style of play in teams through all categories, and to provide players for the first team. When Rafa Benitez hired Pep Segura as head of the academy, Liverpool FC had three areas that were working completely seperately from each other:
- Scouting
- Technical Staff
- Sports Science (doctors, physios, trainers)
The target was to implement an integrated model of the style that currently exists in many Spanish clubs, so that all departments work in the same direction.
The Liverpool training centre consists of four large age groups:
1) Year 1 > Playing games, technical skills
2) Year 2 + Children + Cadets > technical skills, tactical work starts, physical work starts
3) Youth + Amateur Year 1 > technical skills, tactical work, physical work, psychological work
4) Amateur + Reserves > technical skills, tactical work, physical work, psychological work
The second group participates in the Under-15 Championship, the third group includes the U-17s and U-18s, and the fourth group plays in the Under-20s tournament and the Reserves. This team has been included in Pep Segura's area of responsiblity during the season just ended. The Academy focuses on organising the boys' training, education, and family accommodation in Liverpool.
Pep Segura's Academy work is divided into five major areas:
1) Facilities
2) Selection of players
3) Coaches
4) Program (Syllabus)
5) Management of the player
For reasons of time, he could not detail each of these areas, but he did mention aspects of several of them.

Facilities
LFC have twelve training camps, ten on natural grass and two with artificial turf, plus one indoor for winter work. The facilities, according to Segura, are excellent, and not more physical infrastructure is needed.
Selection of players
Scouting is the responsibility of the department. Keep in mind that English law is very strict. Some examples:
- Players up to 14 years can't be signed beyond a radius of 150 kilometers from the club (Liverpool competing in the same environment as Manchester United, City, Everton, and so forth)
- The player is owned by the player's home club /first club forever, this is the main reason why any price tag rises up.
- You can't sign players outside the community (150km) until they are 16 years old
- All games U-16 and U-18 are played on Saturdays at 11 am and from other categories, Sundays at 11 am This avoids the coaches come to watch opposing players of interest. Another peculiarity: the U-15 takes place on Wednesdays, which is almost unfeasible to train more than two days a week
Liverpool work the Academy for sporting and economic necessity and because "we want to work with our players, but do so with our style of play." Segura found, after some time, Liverpool was repeating a pattern that he had already lived in the Barcelona: "Most youth players came from a particular geographical area and, especially, of a particular school."
For scouting the club uses three essential parameters: selection from very young age, constant monitoring of all of them, and determining the precise moment of joining the club. The relevant department raises three questions: a) What is the player profile? B) Is player for Liverpool; c) will he make us grow as a team?
We analyze four factors:
- Technical: We appreciate the passing game (passing game)
- Tactical: Your ability to play without the ball
- Psychological: Your willingness to be professional
- Physical: We value speed, strength and size (English football)
Teams from different categories are structured in the form of a double pyramid
- Between 8 and 11: 3 teams per category
- Between 12 and 14 years: 2 teams per category
- After 15 years: 1 team per category
In the two years since Pep Segura as technical director, the Academy has doubled the number of players at his disposal. In the selection process, all are subject to a battery of physical and technical tests. These tests are also done to those at the Academy itself at sever instances each year to establish internal and external comparisons.
Liverpool FC have identified three types of targets in the catchment:
- Focus A: 14. Local Players
- Focus B: 16. The 2 best in England plus 2 best foreign
- Focus C: 18. Best English and / or foreign to compensate for the shortcomings identified in the Academy
Program
"The program is a great tool to implement and not just having a good criteria for selection of players. It's the idea and style that make an organization strong." Segura says an idea of strategic thinking is needed and from then on a basic understanding of principles of play and style, and an idea to work efficiently and consistent with the philosophy of the club.
Segura says in this regard that the success of Spanish football are based on working with the Academy, which has created an excellent selection pool of players and it has put Spain at the top of European youth football, followed by France. However, he also believes that there si something wrong with Spanish football since that success does not correspond with the actual number of youth players who are actually getting a chance at senior level.
The technical program of the Academy is based on a 4-2-3-1 system of play implemented by Rafa Benitez "although I would have preferred a 4-3-3, but England has historically used the 4-4-2 and we had to adapt." In the case of Liverpool, "using it as a key tool because our style is the passing game, where os our greatest impact".
Stratification of training is as follows:
- 8 to 12 years: 35 weeks of competition / weekly sessions 3
- 13 to 15 years: 35 weeks of competition / weekly sessions 4-5
- 16 to 18 years: 40 weeks of competition / weekly sessions 7-8
- 19 to 21 years: 42 weeks of competition / weekly sessions 7-8
The structure of a typical training session is as follows:
1) Warm up
2) Technical skills: especially in the passing game and to be offered before the pass
3) Tactical skills: Automating offensive and defensive work, possession, Gale Related (reduced situations: from 1 to 1-5 against 5)
4) Part games: Application of the stuff they've worked on
5) End section: Gym, pitch work and stretching
Automation: Work in all phases, from starting to move the ball in defense to the last pass, creating a meaning and order of play. "The small details are the ones that make them grow as players: body position, speed when striking the ball, the timing of his move at the right time ...." Games of position, with special incidence in the circulation at high speed, knowing the positions of the companions are defined and known.
Recordings: The Academy records every game and every practice session with a very interesting point added: they also record the coaches' voices giving advice during sessions. It was a research conducted by the Liverpool University who took up the oral communication, which has yielded great results: "We have seen the deficiencies of the coaches and have corrected the messages. Some always corrected the same concepts and not others more important, or were fixated with some players."
Finally, for Pep Segura the criteria to improve tactics are:
- Everyone must do the same work
- We must be inspired by street football
- Street football is gone and we have to work hard to make up for it
- We must use rectangular surfaces to work on depth and breadth
- We must always breathe offensive spirit
- Explain to children the meaning of 4-2-3-1 to understand it
- Develop the game from the defensive line
- Teaching the collective game based on our system
- Emphasize creativity: the English player is disciplined and easy to learn automation and order, but Spanish is more creative and we must move in this direction
- The Game Related is difficult to apply to players and coaches because they are awaiting orders. When they do receive it, they work hard, but they suffer when they have to bring own creativity
Although centered around Barcelona (and in Spanish), it is highly recommended that people follow Martin Perarnau's blog even if through Google Translate as it is a mine of thoughtful pieces about football. There is a good discussion about this topic going on over at the Red And White Kop forum or, alternatively, you can let me know of your thoughts both through the comments on this blog and on Twitter.
Category Academy, Pep Segura
---
Linkbar