Archive for August 2011
1
Wednesday, August 10, 2011 by Paul Grech
When Paul Konchesky was sold to Leicester City earlier this summer, one of the strangest and most stressful periods of the past two decades in Liverpool's history came to a close. Seen as the embodiment of the mediocrity that had somehow become the norm at the club, Konchesky's departure was deemed as confirmation that the standards that had been allowed to drop were now being pushed upwards again.

For all the criticism that was directed his way – a lot of which, let's be clear, were deserved – the dignity that the player himself displayed was laudable. He was man enough to admit that he hadn't been good enough when Liverpool lost to a last minute goal at Tottenham, never reacted to the criticism (something that, sadly, his mother failed to emulate) and agreed to go down a division rather than stick around in Liverpool's reserves for another season. Yet, likeable and honourable as he was, it is undeniable that Konchesky just wasn't a good enough player for Liverpool – much like the man who had brought him there.

The basis that apparently underpinned Hodgson's appointment – the nonsensical perceived need to go for an English manager – made him the best person for the job. Which is rather different than saying that he was the right man for it. Despite some exceptional achievements – taking Switzerland to the World Cup and leading Fulham to the Europa League final in particular – there was little in a career of over four decades to indicate that he could cope with a job which carries the expectations of the Liverpool job. His successes in Nordic countries were achieved thanks to the exploitation of those countries' lack of tactical development whilst his time at Inter was seen significantly less favourably in Italy than it was in England. Most worrying was his failure at Blackburn, a club where he wasted a fortune and arguably set it on its way to relegation.

And, at times, that seemed to be Liverpool's fate as well. Hodgson can point to a number of justifiable alibis for his failure: owners who were bleeding the club dry, players who wanted to leave and a botched transfer policy where the Managing Director seemed to have as much say (if not more) than the manager. Yet he was the man who set out his teams to play defensively at home, who bowed to Alex Ferguson when he criticised Torres, who considered anything more than a point away from home as 'a bonus' and who judged a defeat at Everton – when Liverpool were played off the park – as the best game his team had played.

As his team's performances worsened and he became more defensive, Hodgson came out with a famous remark that whoever replaced him couldn't do a better job and that there wasn't a magic wand.

Only that it turned out that there was. Using largely the same squad, Kenny Dalglish managed to revive the club's fortunes and produce some excellent football along the way. On his side he had not only the fans – who rightly revere the man – but also the club's change of ownership that swept away much of the negativity around it. Still, to take the club from depressing talking of possible relegation to the verge of European qualification whilst trashing both Manchester sides and ruining Fernando Torres' Chelsea debut along the way was nothing short of exceptional.

Inevitably, Dalglish was given the job on a permanent basis and now things could get trickier. Last season there was very little to lose and, consequently, almost no pressure. That will change this time round especially after having spent some £43 million on three players this summer.

There is also a degree of scepticism over the players on whom that money has been spent. Already, there was perplexity at the £35 million that Liverpool paid for Andy Carroll last January, especially given his off the pitch problems, but John W. Henry had already explained that fee as being down to Chelsea's late bid to sign Fernando Torres. Yet Liverpool have followed it up by paying excessively for Jordan Henderson and Stewart Downing, which puts both players in the firing line for criticism should either one of them fail to settle in immediately.

The amounts spent on those players has somewhat ridiculed the notion that Liverpool would going predominantly for players who represented good value for money; that they would be adopting what has lazily been tagged as the Moneyball approach. Yet, whilst it has been quoted often enough, little is yet understood about how this works. Sure enough, not overpaying for a player is a tenet but so is paying what is needed to fill the gaps, which is what Liverpool have done with the left-footed Downing. Equally it isn't merely coincidental that all of these players are British, something that ensures that Liverpool will recover a good part of the fees paid should any one of these fail to live up to the hype. And that too is a 'Moneyball' consideration.

What is more interesting than the money paid is how Dalglish decides to line up his players. With so many central midfielders available – excluding the departing Alberto Aquilani and the immobile Cristian Poulsen, Liverpool have five who can justifiably expect to play fairly regularly – it seems improbable that they will adopt the 4-4-2 that Dalglish has traditionally employed. Much more likely is the 4-2-3-1 that mirrors the system that Liverpool have been implementing at an academy level for the past two years and which Dalglish knows fully well due to his involvement in the academy before he got his promotion.

This system should allow him to play Lucas alongside Charlie Adam in a withdrawn midfield position with the first primarily looking to defend and the other to create. It would also see Downing, Gerrard and Suarez working behind Carroll who will be the focus of attack. With Dirk Kuyt, Maxi Rodriguez, Jordan Henderson and Jay Spearing also available, Dalgish seems to have built a midfield in which every player has a good alternative.

If this is truly is the system to be adopted, then it will be an interesting experiment to watch. Even if it isn't, however, Dalglish has the ability to innovate tactically so as to mould the team into playing as he wants it, something that he showed at times last year when Liverpool switched to three players at the back to deal with certain teams.

Part of that innovation could be down to Steve Clarke. Since he joined Dalglish last January, the profile of Mourinho's former assistant has been steadily growing as has his influence. There's nothing to indicate that he had anything to do with the removal of Sammy Lee from first team coach but it is telling that the man chosen to replace him was Kevin Keen, someone who Clarke clearly recommended, having played and worked with him at West Ham. With another of Mourinho's former aides now in charge at Chelsea, it could be that Clarke is working his way into eventually being given the job at Anfield.

That, however, is something that at the moment seems to lie far ahead in the future. But, after a bleak couple of years, Liverpool's future does indeed seem to be brightening up. Not least because the academy – which Rafa Benitez revolutionised in what could turn out to be his most important act as Liverpool manager – is suddenly churning out a number of talents. There were six Liverpool players in the England squad that took on the U17 World Cup in Mexico (plus another – Tom King – in the Australian team) and seven were called up for England's U19 European Championship squad. More importantly, Dalglish has shown faith in Martin Kelly, John Flanagan, Jack Robinson and Jay Spearing with each one showing that they deserve it.

All of these positives raise expectations but, even so, going from sixth to fourth will require a significant effort. Manchester United, Chelsea and Manchester City should take three spots meaning that there's one available for Liverpool, Arsenal and Tottenham. Even if Dalglish does manage to get the players that consolidate a defence which is lacking a left back and needs a commanding central defender, there still seems to be a work in progress feel about a squad that lacks the depth of quality of others. What could favour Liverpool is the absence of European football – that's assuming that Tottenham pay any attention to the Europa League – whilst the Premier League experience of all of their major additions is another plus point.

Publicly, Dalglish has been very cautious not to put pressure on his players by setting any targets but this is not to mean that others won't do so for him. Nor should it be read that he himself is lowering the standards because Dalglish knows more than anyone that the fans are aching for a league title and that is what, ultimately, he will be working towards. Not this season, though, where a degree of progress should be enough.

This article originally appeared as one of the Premier League previews on the excellent TwoHundredPercent football site.

You can follow A Liverpool Thing on twitter.
Category Kenny Dalglish
---
0
Tuesday, August 09, 2011 by Paul Grech
He might not appreciate it much as he starts looking for a new job but Sergio Batista's dismal failure as Argentina coach at the Copa America delivered a very important message.

In the run up to the competition, Batista had expressed his intention to impose Barcelona's tactical approach on his side. And it seemed an understandable enough decision. Although, in Lionel Messi, Argentina have Barcelona's star player the forward has never managed to replicate his club form for his country.

The reason for that, Batista must have reasoned, was the way the team played and the best way to solve it was by getting that team to adopt the 4-3-3 system that Barcelona have used with so much success.

Batista might have argued that he wasn't expecting his central midfielders to perfectly mimic Xavi and Andres Iniesta but the way that Ever Banega and Esteban Cambiasso moved on the pitch hinted otherwise. Yet, although both are excellent players, they failed to shape the game in the same manner as the Barca duo.

And therein lies the lesson. Xavi and Iniesta have been playing in the same system, making the same sort of passes and looking for the same space to move into since they were eleven. They've got a level of expertise that you can't simply transplant into a team, regardless of how good the players are.

There is another lesson to be had here, one of a more philosophical nature. A club playing culture has to take that specific circumstances. An English team can play in the same manner as a Spanish team for the simple reason that the weather is so different. For the Spanish it makes sense to adopt a system where the ball does most of the running but for an English team, where the weather is much colder, running around is actually a way for players to warm up.

This is something that Pep Segura immediately understood when he was given the job of setting a strategic direction at Liverpool's academy. His long history at Barcelona meant that he had a natural inclination for their 4-3-3 system. Yet he realised that this would be hard to implement in England where the general style of play was much more physical than in Spain.

So instead he - along with the others at the academy - decided upon a 4-2-3-1 system that is a hybrid of Barcelona's but which also takes into consideration England's traditional favouring of the 4-4-2 and also the greater dynamism of English players.

In doing so he had confirmed what former Liverpool assistant manager Pako Ayesteran had said on Revista de La Liga earlier this year. "Every success story leaves clues behind, but as well as identifying them, you also have to be able to adapt them to your own philosophy and culture. So right now, English football needs to be faithful to its own culture, whilst being recognising htat there are different ways of playing football."

"The great thing about La Masia - the concept that I'd like to try and bring to Liverpool - is this. Barcelona's La Masia represents the club's policy," Segura said on the same show. For him "it's a symbol of the club's philosophy. When your policies keep changing when one day you say black, the next day white, then there will always be a problem in trying to establish a clearly defined concept of player development."

That faith in one central ideology of how to play the game is at the heart of Barcelona's success. It has taken years for that faith to prove to be worthwhile at Barcelona and, for all the upturn the immediate results, it will take a similar amount of time for it to be fully functional at Liverpool
Category Academy, Pep Segura
---
7
Wednesday, August 03, 2011 by Paul Grech
Having talented players progress till they're good enough to play regular top level Premiership football is still an art that very few - if any - have perfected. The traditional route of letting them develop in the reserves no longer seems to apply given the dilution of quality in this league whilst the more recent solution of having the players go out on loan is a bit hit and miss.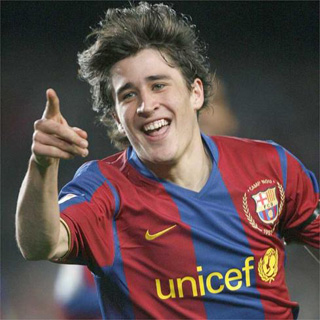 As discussed recently a better solution would be that of having an agreement with a number of clubs with a matching football philosophy and that can be trusted to develop these players well.

But Barcelona seem to have come across a solution that is an improvement on this variation.

That comes from the transfer that took Bojan Krkic to Roma. Krkic has long been considered a great prospect but with the emergence of Pedro and the presence of David Villa chances for him at the Nou Camp were limited. And there would have been even less chance of him getting to play with the arrival of Alexis Sanchez.

Barcelona could have sent him out on a season's loan but that would have solved very little: within twelve months they would be facing the same problem. Or they could hsve sold him, knowing fully well that they would be letting go a player with the potential to be great.

So they opted for a middle road. Krkic has gone to Roma for €12million with an agreement that Barcelona will buy him back in two years' time for €13million.

This is quite an intelligent move. Barcelona are sending their player to a team with a coach - Luis Enrique - they know (and knows then) well. They know that he will get a lot of playing time in a tough league and with a side that will be pressing for the title. And they know that in two years they will get the player back at a time when presumably they would be looking to replace Villa. Even if Krkic doesn't develop, they will only be €1million out of pocket, a figure that they could easily recover by selling him. To boot, Barcelona are getting a decent amount of money that will go towards boosting their Financial Fair Play status.

There are few clubs who have such a reputation so as to be able to set up such a deal and fewer players of such high potential that clubs would be willing to agree to the deal as Roma have. Yet Barcelona have shown not only what is possible but also that you should be willing to redetermine the boundaries if you really want to develop a special talent.
Category Academy
---
Linkbar